Gum Disease Treatment in Garden City, NY
Many adults in the US currently have some form of gum disease. Minor cases of gum disease may only cause inflammation, while more severe cases cause damage to the tissue and bones, resulting in tooth loss.
Gingivitis
Our mouths contain a lot of bacteria. Bacteria, mucus and other particles cause sticky plaque to form on our teeth. If the plaque isn't removed with proper brushing and flossing, it can harden to form tartar. Once plaque turns to tartar, the only way to remove it is with a professional dental cleaning. Regular brushing will not be enough. Plaque and tartar that remain on teeth are harmful. Over time the gums will become inflamed and bleed easily. This is known as gingivitis—a mild form of gum disease. Gingivitis can be reversed by brushing and flossing daily, and with regular dental cleaning.
Periodontitis
If gingivitis is not treated, it can become periodontitis, which causes inflammation around teeth. In periodontitis, the gums pull away from the teeth and form deep infected pockets. Your immune system will begin to fight the infection; however, between the bacteria and your body's defense system, bones and connective tissue begin to breakdown, causing serious damage and tooth loss.
Signs and Symptoms of Periodontal Disease
It's important to understand that you can have periodontal disease with no obvious symptoms, especially if you are a smoker (nicotine reduces blood supply preventing bleeding and swelling of the gum tissues). Still, there are some important things to look for:
Bleeding gums — Some people think that when their gums bleed, it simply means they're brushing too hard. While brushing too hard is bad for the gums, it should not cause bleeding. Any bleeding of the gums should be considered a warning sign of gum disease.
Bad breath — It's very easy for plaque to collect in the spaces between the teeth, creating the perfect living conditions for bacteria that produce odorous, sulfur-containing compounds, resulting in bad breath.
Redness or swelling of the gums — Inflammation of the gums is usually the first visible sign of periodontal disease.
Receding gums — If you notice that your teeth look longer than they used to, it may be that your gum tissue has receded (away from the enamel), exposing some of your tooth roots.
Sensitivity — If there is gum recession, the exposed roots may become sensitive to hot or cold.
Periodontal abscess — Bacteria can become enclosed in a periodontal pocket and the area will fill with pus, becoming swollen and painful.
Loose teeth — When periodontal disease results in bone loss, teeth can become loose or migrate. Tooth loss can result and may be accelerated if you are applying excessive biting forces from clenching or grinding your teeth.
Treatment Options
All periodontal therapy starts with the evaluation of your oral hygiene techniques and instruction for improving them. Following the inital evaluation of your oral health, and the severity of the gingival issues that you are experiencing, gum disease can be treated with a variety of different methods including:
Scaling and Rooting Planing: This is one of the most effective and common ways to treat gum disease. Scaling removes any dental tartar from your teeth, while root planing treats the infected pockets.
Antibiotics: Oral or topical antibiotics may be used to treat periodontal infections or to control the bacteria.
Periodontal Laser Treatment: This treatment removes inflamed pockets and decreases bacterial growth. Laser therapy in conjunction with scaling and root planing can be an effective gum disease treatment.
Periodontal Surgery: Sometimes surgical procedures may be necessary to remove the deep pockets that form between inflamed gum tissue and teeth. There are many different types of surgery to handle a variety of problems. And many times, combinations of procedures are used to attempt to reduce the number of surgeries as well as the cost of treatment.
Dental Implants: This long-term solution for replacing missing teeth has become one of the preferred methods for tooth loss treatment. A small titanium screw is inserted into the jawbone and is given time to allow the surrounding bone and tissue to fuse with it. Finally, an artificial tooth is placed over the screw to complete your smile.
For more information on Gum Disease and the treatment options that are offered at our Garden City, NY area office, call Leading Care Dental at (516) 256-2424 today!
Related Articles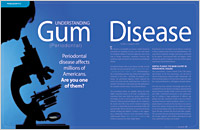 Understanding Gum (Periodontal) Disease Have your gums ever bled when you brushed or flossed? This most commonly overlooked simple sign may be the start of a silent progressive disease leading to tooth loss. Learn what you can do to prevent this problem and keep your teeth for life... Read Article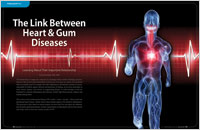 The Link Between Heart & Gum Diseases Inflammation has emerged as a contributing factor for cardiovascular disease (CVD), which can commonly result in heart attacks and strokes. While the precise role inflammation plays in causing chronic CVD still remains unknown, the good news is that, based on current research, we know that if we can reduce the inflammation caused by periodontal disease, we may reduce the risk for heart attacks and strokes... Read Article